Inventor takes journalist on submarine tour, loses both in process
Dane Peter Madsen, who previously denied any role in disappearance of Kim Wall, now says he dumped her body at sea. A Danish inventor says a Swedish journalist missing since 11 August died in an accident onboard his self-built submarine, and that he dumped her body in the sea, police have said.
The inventor, Peter Madsen, had previously claimed he last saw Kim Wall when he dropped her off on the tip of an island off Copenhagen late on 10 August. He had denied playing any role in her disappearance.
Danish authorities have been searching for Wall, 30, a reporter who had been writing a feature story about Madsen, since she failed to return from an interview with him onboard the 18-metre (60ft) Nautilus.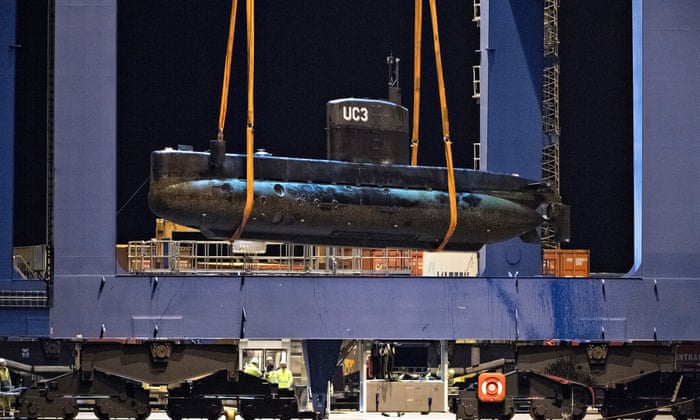 Police said on Monday that Madsen, who has been accused of negligent manslaughter, "told police and the court that there was an accident onboard the sub that led to the death of Kim Wall, and that he subsequently buried her at sea in an undefined location of the Køge Bay".
"We believe he is telling the truth when he says she died in the submarine," the Danish police chief president, Steen Hansen, told Swedish news agency TT. He did not comment on whether police also believed Madsen's account of the circumstances of Wall's death. The current charges against Madsen remain in place.
The court's prosecution and defence teams had made a joint decision to lift parts of the privacy order around the case, which is being conducted behind closed doors.
Madsen's lawyer, Betina Hald Engmark, told Danish newspaper BT that her client was "relieved" after police released some information on the case.
"He wants to collaborate with the police and give investigators all the information needed in the case," Engmark said.
Wall was last seen on Madsen's vessel by several people in waters off Copenhagen on the evening of 10 August. Her boyfriend reported her missing in the early hours of Friday.
The submarine was later also reported missing, but rescue crews located it at shortly after 10am on 11 August in Køge Bay, about 30 miles (50km) south of the Danish capital.
At about 11am, Madsen jumped into the water after the submarine started to sink, telling personnel on the boat that rescued him that there had been a problem with the ballast tank and something had gone wrong when he tried to repair it.
Police refloated the Nautilus and towed it into harbour for investigation, later suggesting that Madsen may have sunk the boat on purpose to hide evidence.
Danish police said the search for Wall's body, by helicopters, ships and divers during the weekend, would continue on Monday.
The Nautilus was the biggest private submarine ever made when Madsen built it in 2008. Swedish media report that Wall had planned to sell her article on Madsen's boat to American magazine Wired.
Originally from Sweden, Wall held degrees from Columbia University and the London School of Economics, and had written on issues ranging from social justice to foreign policy for publications including the Guardian, the New York Times, Foreign Policy and Time.
Source: The Guardian